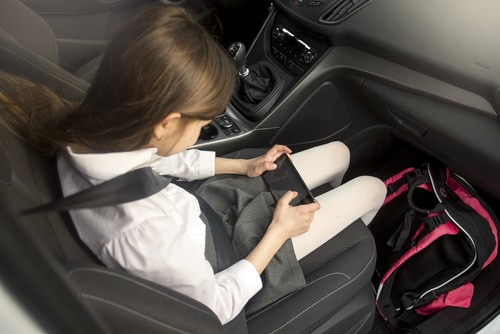 When Can Kids Ride Up Front?
My six year old is very focused on all things "grown up" lately. She wants to carry her own purse with her own things in it. She wants to handle all store transactions on her own. She wants to make her own decisions. And she wants to ride up front in the car with me.She's six. She is in absolutely no way ready to join me up front. She's barely out of a harness, and she's still very secure in a booster seat, and legally, she's still required to be in one. I have no issue telling her no. She can feel as grown up as she wants in the car. She can even control the stereo from her iPod. But she'll do it from the backseat.But now the question is, "when CAN I sit up front?"It's a good question, and one that deserves some research. It would certainly make carpooling easier, but I don't think we're close. Here are the answers I found.
1. "When You're a Teenager"
Kids just aren't big enough or physically mature enough until they're at least 12 or 13 in most cases. An adult seatbelt doesn't fit right. Kids can slide right under them in an accident, making their risk of severe injury unacceptable. And the front passenger seat is a much riskier seat in a collision even if you are the right size. A child, even one properly buckled, can be thrown into the dashboard or windshield. And airbags deploy with such force that they themselves can cause injury to a smaller passenger. I was in a fairly major accident when I was in college (I was driving) and I was injured from the airbag (although it also prevented me from hitting the steering wheel). A tween of average size could very easily be injured more severely.
2. When It's Legal
Obviously, check the laws for your particular state, even if it's just a short ride. Most states have a height and age requirement. I told my daughter it's like a ride at an amusement park. You must be this tall and this old to ride. Most kids understand the "legal" argument, even if they don't like it. 
3. When It's the Only Option
Maybe you have a pickup truck. Maybe, for whatever reason, you've run out of backseat and the oldest child has no choice. State laws are typically pretty accommodating. It's better to have a child buckled in front than unbuckled anywhere else. But obviously, this isn't a great choice and not even one I presented to my six year old.
4. When the Airbags are Turned Off
If you are, say, in a pickup truck, where a small child needs to ride in the front seat, either in a car seat or with a seatbelt, you can disable the airbag. Many cars now have "smart" airbags that detect the body weight in the passenger seat and turn off automatically if the passenger isn't heavy enough. If you can't turn the airbag off on your own, the dealership can deactivate it. This is what most pickup owners do when they need to install a car seat in a front seat only vehicle.
Bottom line? Safety first. Children belong in the safest seats for them, even if it isn't what they want. Parents are pretty good about making those tough calls, and the car shouldn't be any different. 
About the Author: Meredith Napolitano blogs at FromMeredithtoMommy.com, where she writes about raising kids while keeping her own identity as well! Follow her on Facebook!