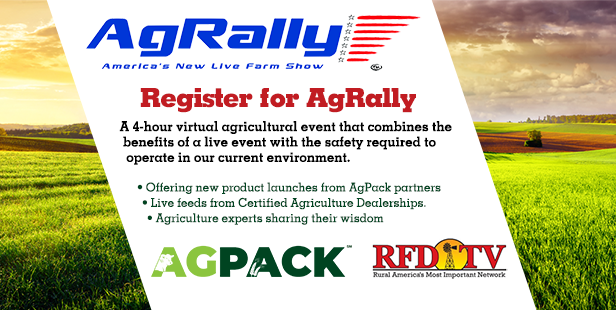 The COVID-19 pandemic has affected the world, including the fact that every national farm show has been canceled. That's why we're proud to provide support to AgRally, America's New Live Farm Show!
AgRally, which is being brought to you by the Certified Agriculture Dealer (CAD) Program & RFD-TV, will be taking place on Wednesday September 23rd from 12 pm to 4 pm. This 4-hour virtual agricultural event combines the benefits of a live event with the safety required to operate in our current environment.
There are 3 ways you can join this virtual farm show:
Watch on RFD-TV or the Cowboy Channel
Live streaming on the on RFD-TV Now app
At a participating CAD Program dealership
These challenging times have made it hard for people to interact with one another and we hope that AgRally will be a way to open up the doors of communication within the farming & ranching communities. There will be Q&A sessions and prizes like Yeti coolers will be given away during the event.
We are proud to be the local Certified Agriculture Dealership in our community and this event is designed to give farmers & ranchers a virtual farm show experience where they can engage with new products from several AgPack partners, emerging technologies & factory representatives.
The current list of AgPack partners include:
AgDirect, Powered by Farm Credit
Michelin tires
BF Goodrich tires
Rhino Ag equipment
Dixie Chopper mowers
ViaSat internet provider
AgriEdge farm management system
AgroLiquid Crop Nutrition
Reinke Irrigation
Gallagher Livestock Equipment
Eby Trailers
Precision Reach Digital Marketing
Farm Market iD agricultural data
AgRally will have agriculture experts sharing their wisdom to help farmers and ranchers during these critical months. Working together, nationally & locally, we can each do our part to make this event a success!