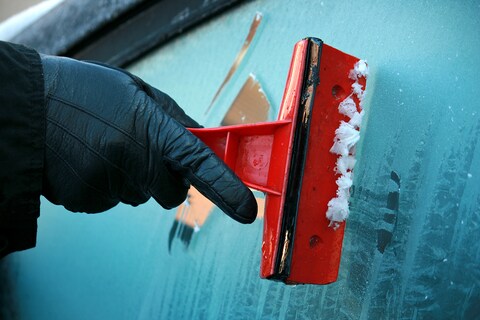 Instant Window Defroster    
I hate getting into my car on cold days and nights. My car is in a garage when I'm leaving from home, so most of the time, I don't need to worry about clearing and scraping, but when I'm out for a while, I can't avoid it. I run the defroster on high while I scrape and shiver and often, I'll clear just enough to see to drive without getting the whole windshield clear. 
And it's not hot water. Don't do hot water. 
Then I found this magical spray. It will defrost your windshield almost instantly, and you can keep it in the car without worrying about finding it frozen. I tried it during our last cold snap when I was leaving a long meeting, and I was astonished how quickly I was able to pull out of the parking lot with a totally clear windshield. 
It's so easy to make and keep, and cost is extremely low. 
Mix 1 part water 2 parts rubbing alcohol 
Fill a spray bottle with this ratio of mixture. 
Spray a frozen windshield and it will melt the ice quickly without the need for excessive scraping! 
Keep it in the car and you'll never be caught shivering and scraping on a cold winter's night again! 
This mixture can also be used to unstick frozen keyholes, wipers, and doors!   
Obviously, like any cleaning solution, make sure it is labeled and kept away from kids.